In modern life, adults are circled in cities, and parents are bringing children around at home. Fortunately, more and more parents are aware of this: Outdoors is a paradise for children. Children need to experience, feel, and experience in the fertile nature, and cultivate children's love of nature, willingness to share, and perseverance. According to statistics, in recent years, children have an annual growth rate of over 40% in the market. The exhibition is a trend indicator that reflects the development of the market. From the perspective of the brand participation of the Asia Outdoor Exhibition in recent years, children's outdoor brands are showing a year-on-year increase despite their small share. At the same time, the strong purchasing power of the children's wear market has also attracted more and more brands to focus on and invest in children's outdoor activities.
Outdoors is part of a foreign school education program
According to the Outdoor Foundation's 2014 Outdoor Outdoor Recreation Participation Report, the number of U.S. outdoor sports participants (over 6 years of age) reached 142.6 million and the total number of outdoor activities reached 12.4 billion. Participants 87.4 times. The report also shows that the youth participation rate at the age of 13-17 has remained stable, and the participation rate of young people aged 6-12 years and young people aged 18-24 has kept a modest increase. Taken together, young people spend more than 5 billion outdoor trips a year throughout the year, with 99 visits per capita. In terms of overall participation, young people participating in the most extensive outdoor activities are running, cycling, fishing, camping and hiking.
Outdoors is part of the foreign school education curriculum, while China's international schools also have outdoor education. Organizing these courses also emphasizes character cultivation. There are two types of outdoor education for teenagers abroad. One is for profitability and the other is for nonprofit. Non-profits are more prevalent, mainly due to environmental protection and health-related organizations that bring children to the outdoors and recognize natural learning and environmental protection. The largest organization is the "boy scouts" spread around the world. The Boy Scouts emphasize the cultivation of personality and personality as well as the cultivation of discipline. For example, some simple ways: the pupils knock on the door to sell their homemade biscuits to their neighbors, or they write to people they don't know, and they buy cookies online. The main training for children is to boldly go out to solve their own problems. However, the Scouts also have a relatively large scale, and sometimes they go to the wilderness to cultivate their fearless spirit.
In short, the outdoor sports of young people abroad is very common. The long-term development has led to a good foundation for the generation of households, so there are more "voluntary coaches" that don't ask for a return. In addition, parents' recognition is also high, and photos from many competitions As we can see, children were being carried or pushed into outdoor sports such as marathons from their childhood. With these enthusiasm for the outdoors, it is clear that the outdoor youth market in foreign countries is relatively stable and is on the rise.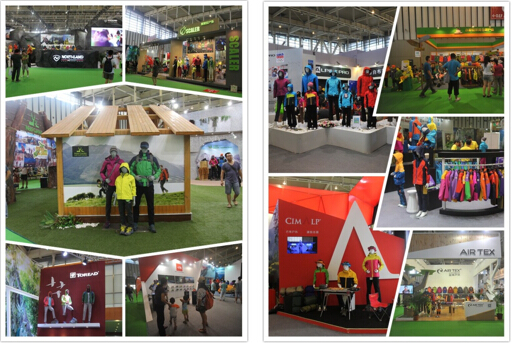 Potential domestic children's outdoor market
In recent years, parents in China have gradually begun to pay attention and take children into the outdoors. The most common way is to go hiking, hiking and camping, especially camping. It is the best way for families and children to integrate outdoors. "It would be better if we could teach the children outdoor knowledge and teach them safety and first-aid knowledge!" This is the demand of a five-year-old mother. In fact, there are many outdoor activities suitable for children, and skiing and rock climbing have gradually become a climate.
With the emphasis placed on children's outdoor sports, the children's outdoor product market has begun to emerge. With the attention of the industry, how should companies exert themselves to gain a foothold in this segment of the market? It is generally believed that focusing on the development of all categories is the key to doing well in the outdoor market for young people.
At the annual Asian Outdoors Fair, it is not difficult to find a careful audience, such as Alpine Pro, CAMKIDS, Columbia, Kailas, Mobi Garden, and Northland. (Northland), Phibee, Scaler, St. Bonalt, The North Face, Toread, Vaude, etc. In this segment of the market, it is true that most of them are in the full category, and some have already developed the outdoor children's wear market as early as ten years ago.
Developed an earlier foreign old brand - Vaude
As early as ten years ago, Germany's outdoor famous brand Vaude has developed a full range of children's outdoor products, from children's underwear to the middle warm clothing to the outer jacket, children's equipment from shoes and socks, scarves to backpacks, really nothing. Although sales of children's outdoor products account for a small percentage of Vaude's total sales, the marketing director of Vaude, Li Mingyu, said that children's outdoor products have a good momentum. From the sales point of view, the individual growth rate is far greater than the overall growth rate, so Vaude The outlook for children's outdoor products is still promising.
There are many opportunities for children to jump, bump, and pull in outdoor activities, and bring many challenges to the clothing they wear. Children's outdoor products are mostly based on colorful colors. Waterproof and windproof are the basic functions of the product. The detailed design highlights the humanization. It is understood that manufacturers use wear-resistant, waterproof, breathable and quick-drying clothes to add advanced technological elements to their products. They also use high-quality details and processing standards in line with adult clothing to create more comfortable and durable children's clothing. It also improves. From the point of "functionality of raw materials" and "functionality of product structure", Vaude requires a more professional technology and design sense for children's outdoor products. Compared with adults, children's skin is more sensitive and the skeleton is smaller. From the choice of fabrics and pockets and other special features, we must be strict and unique.
In 2015, Vaude will promote children's environmental protection topical outdoor products in the Chinese market, divided into mountaineering, hiking, travel, and cycling. "We will strengthen the display and promotion of terminals. Over the past decade, with the popularization and development of the Internet, we will now focus more of our efforts on the interaction of resources with the resources and end-user groups, as well as microblogging. The promotion of WeChat is used," said Li Mingjun, marketing director at Vaude.
Domestic e-commerce leading brand - Phoebe elephant
As a children's outdoor brand, Phoebe Phibee is a brand with e-commerce as the channel, and a very small amount of products entering the real outdoor shop sales. Regardless of brand promotion or sales volume, Phibee is considered to be one of the more successful cases in the industry. "On the basis of guaranteeing waterproof, breathable, warmth and other functions and practicality, color is one of the fashion elements we pursue." Phoebe's marketing manager Cai Nannan told Xiao Bian, "The product concept we always insist is ' "High quality," "high cost performance," on the premise of guaranteeing quality, developing technology products, truly making consumers feel like buying value."
In 2014, the Phoebe Elephants tested the success of the Asia Outdoor Show. For the future development, Cai Nannan stated that "we will continue to participate in exhibitions and market events planning and integrate brand promotion and consumer interaction more effectively. together."