Connectors + Base Plate:
Hop-DIP Galvanized Steel, Thickness Over 60um
Features:
Water Proof/Flame Retardant/UV-Resistant/Self-Supp
Flame Retardant:
DIN4102 B1/M2/B1
Max. Wind Load:
80km/H ( 0.3kn.Sqm )
Transport Package:
Solid Carton Boxes / PVC Carry Bags / Clear Film
4x4m Outdoor Canopy Camping Gazebo Party Tent With Glass Door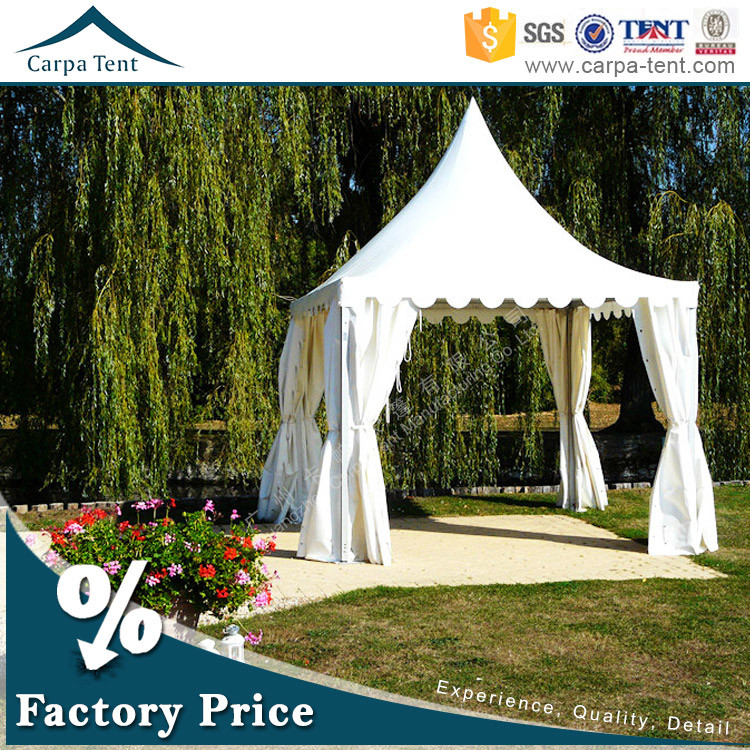 Product Description
Pagoda tents manufactured in Carpa Tent, is the ultimate tents for any event with its elegant and easy assembly design, and there are massive optional accessories, including woodenflooring system, 
glass walls, solid ABS walls, soft PVC sidewalls with clear windows, glass doors,door canopies, 
rain gutters, roof linings and walls drapes, ramps, racks, etc.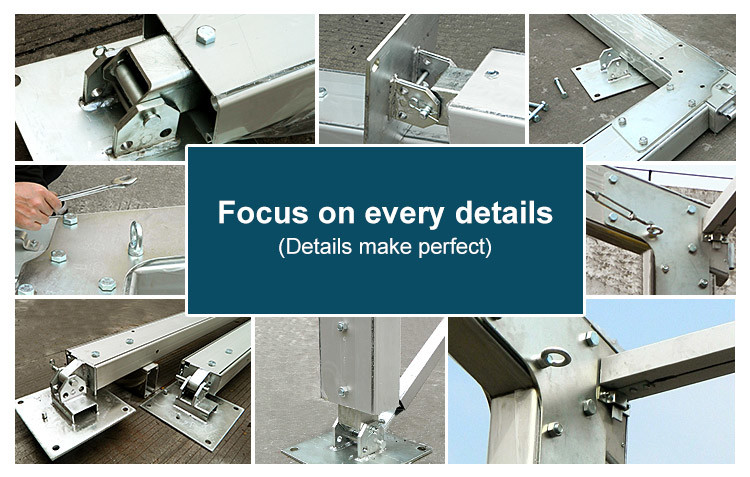 Tent Specification
 

Pagoda Tents Type
Model
Width
Length
Longest components
Side height
Ridge height
Max. wind load
CTP003
3m
3m
2.85m
2.50m
4.20m
80km/h
CTP004
4m
4m
3.85m
2.50m
4.80m
80km/h
CTP005
5m
5m
4.85m
2.50m
5.20m
80km/h
CTP006
6m
6m
5.85m
2.50m
5.80m
80km/h
CTP008
8m
8m
4.3m
2.60m
5.40m
100km/h
CTP0010
10m
10m
5.25m
2.60m
6.40m
100km/h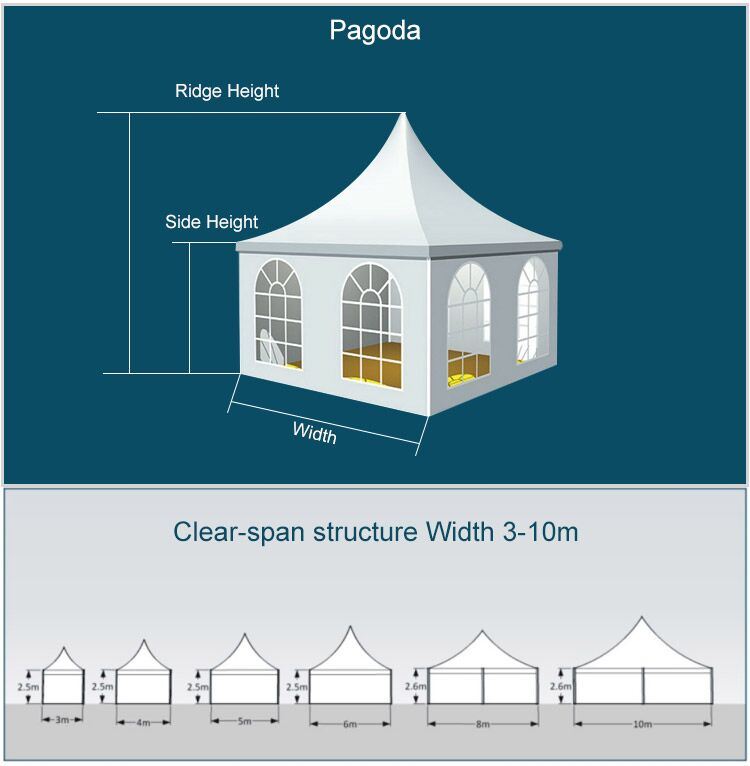 Fabric cover:
 High quality double PVC-coated polyester textile, 100% waterproof, flame retardant to DIN4102 B1, M2, CFM, UV resistant, tear resistant, self-cleaning ability, etc.
Our PVC fabric flame retardant according to German standard DIN4102 B1,M2 and USA standard CFM/NFPA 701.
Frame material:
 Hard pressed extruded aluminum alloy, anodized surface handling, silver color, sturdy and never rust; over 15~20years life span.
Our aluminum alloy code 6061/T6,hardness achieved 15HW.The  wind load capability is based on the aluminum hardness.
Steel components: Hot-dip galvanized steel, thickness is over 60um. 
Character & Feature
 
       > 100% relocatable and unobstructed free span space;
 
       > Very easy and very fast to install and dismantle, convenient to stock and transport
 
       > Rainproof, fire retardant, UV-protection, can be environmentally controlled in any climate;
Tent Accessories
Covers : colourful cover, transparent cover, inflatable roof cover
Windows : dome or square clear PVC windows, mesh window, glass window for glass wall
Wooden Flooring System: VIP cassette flooring, simple cassette flooring
Doors : double wing glass door, single wing glass door, glass fire door, aluminium door, rolling shutter(automatic or manual)
Wall : soft PVC fabric wall, glass wall, ABS hard wall, sandwich panel wall, steel plate wall
Fixing Methods: ground anchors, weight plate, expandable bolts
Rain Gutters : inner roof beam rain gutter or rain gutter between two similar tents
Other Optional Items: table, chair, lighting, AC, carpet, installation tools etc.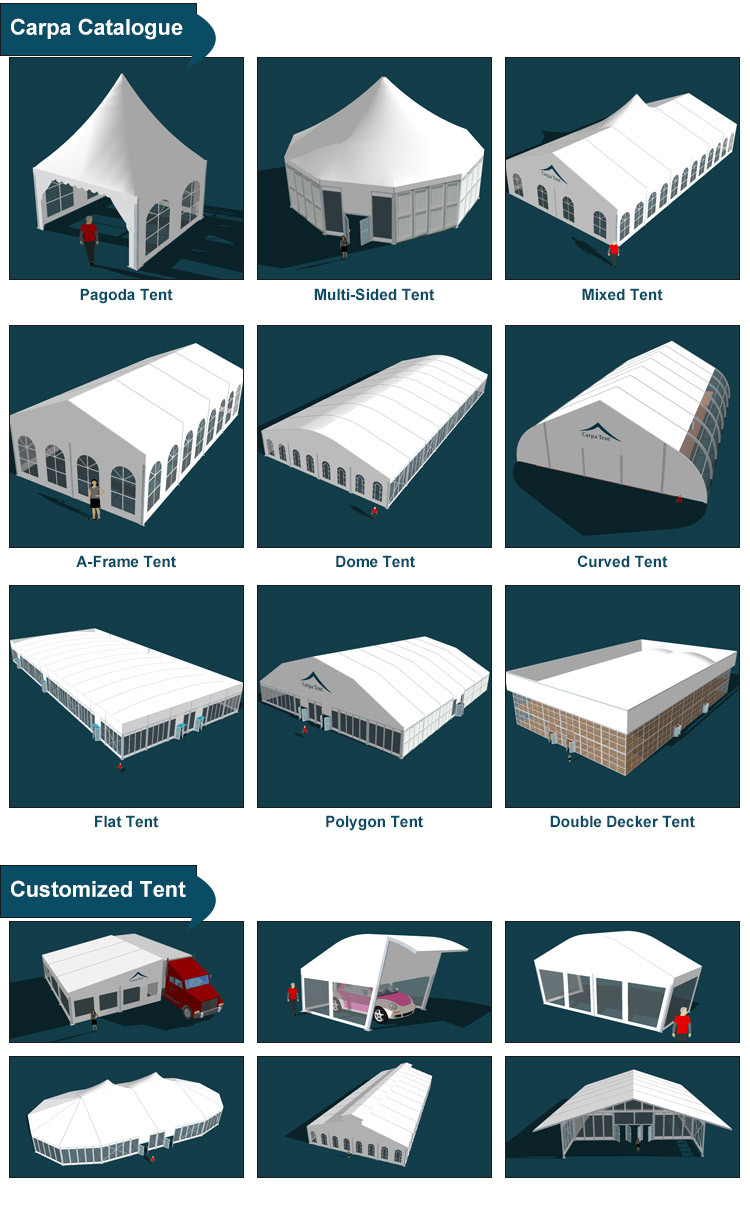 Packing Details
Tops and side walls packed in PVC carry bags.
Glass walls, glass doors, ABS walls packed in transportation racks.
All the aluminum frame packed in pearl film or clear film.
All the little hardware parts packed in solid carton boxes.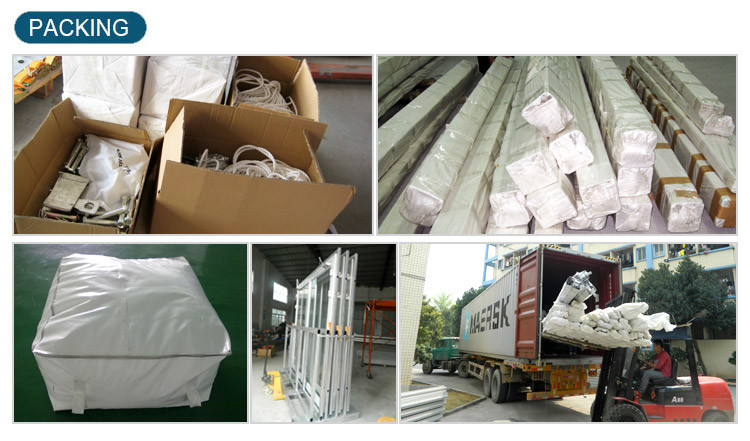 Our Advantages           
                   
Over 15-year experience in tent field for our Engineers, we are professional and you save worry and save trouble.
All Carpa Tents are engineered to reduce operation and managing expenses, with superior energy efficiency, let you spend every penny worth.
High quality material and accurate design makes tents durable, safe, and makes erection and disassembly easy and fast.
We welcome your visiting to our factory before order, we feedback every producing progress after order, and we do careful inspection before shipment, and we welcome your on-site inspection.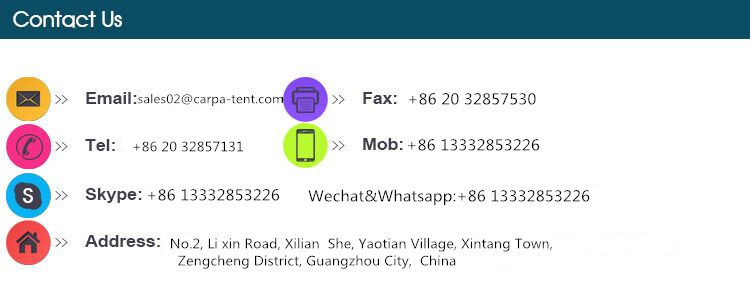 We warmly welcome you come to visit our factory and check our sample tents.
 
Clear Makeup Train Case, Vinyl Cosmetic Bag, PVC Cosmetic Bag
luggage boxes Co., Ltd. , http://www.ywaluminumcase.com