Lung cancer, also known as primary bronchial carcinoma, refers to tumors that originate in the bronchial mucosa and alveoli. In recent years, as the incidence and mortality of lung cancer in countries around the world continue to rise, lung cancer has become one of the most common malignant tumors. MicroRNA is a type of non-coding small molecule RNAs (18-25 nt), which specifically binds to target mRNA, degrades mRNA or inhibits protein translation, thereby regulating gene expression at the post-transcriptional level and participating in the regulation of biologically complex life processes. The research group of Professor Shu Yongqian of the First Affiliated Hospital of Nanjing Medical University conducted a systematic study on the function of miRNA in lung cancer side population cells *, and the research results were published in Biomedicine & Pharmacotherapy.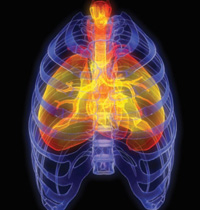 Recent studies have shown that Side Population (SP) is an important source of Cancer Stem Cells (CSCs) and is involved in promoting and maintaining the occurrence of various types of human malignant tumors. SP cells have outstanding biological characteristics, which will promote the metastasis of tumors, the development of treatment resistance and the recurrence of tumors. In this study, researchers used miRNA chips to compare and analyze the miRNA expression profiles of SP cells and non-SP cells (chip services provided by Lianchuan Bio). The results showed that compared with non-SP cells, the expression levels of let-7 and miR-31 in SP cells were significantly up-regulated, and real-time quantitative PCR was used to verify the results of the chip. In vitro studies have shown that inhibition of miR-31 expression can significantly inhibit the growth of lung cancer SP cells and non-SP cells; on the contrary, inhibition of let-7 expression can significantly promote the growth of lung cancer SP cells and non-SP cells. The low expression of miR-31 in SP maintains lung cancer SP cells in the quiescent phase of G0 / G1 and inhibits SP cell proliferation and differentiation; while the low expression of let-7 accelerates G1 / S phase transition and promotes SP cell proliferation and differentiation.
This study shows that the low expression of miR-31 and let-7 balance the self-renewal and silencing of SP cells.
* Shen H, Xu X, Guo R, Yin Y, Liu L, Gao W, Shu Y. (2012) Reduced miR-31 and let-7 maintain the balance between differentiation and quiescence in lung cancer stem-like side population cells. Biomedicine & Pharmacotherapy. [Epub ahead of print].
Lianchuan Biotechnology relies on the patented µParaflo® microfluidic customized chip platform technology, the world's first to provide the latest Sanger miRBase version 19.0 (2012/8) microRNA expression profiling microarray chip detection service, revealing the latest and most comprehensive for your research microRNA expression profile.
The Tea Tumble is a kind of fashion of contemporary society, combines the characteristics of Chinese and western, outstanding beauty, appreciate the characteristics of improving family offices or fashion, also has a great practicability.
100% dishwasher & microwave safe,our Tea tumble can be endures temperatures from -70° to 530°,excellent quality tableware for the all seasons,and it does not contain toxic substances such as lead, mercury and BPA.
Tea Tumble,Glass Tumbler,Tea Tumbler Cup
Hejian Jia Teng Glass Products Co., Ltd. , http://www.jtglassware.com